Commentary
Who you calling 'socialist?' Poll reveals sharp partisan, demographic splits on socialism and capitalism | The Numbers Racket
During his State of the Union address back in February, President Donald Trump vowed that "America will never be a socialist country." And, indeed, there seems precious little danger of that ever happening.
But that hasn't stopped prominent progressive politicians from embracing the "Democratic Socialist" label, including U.S. Sen. Bernie Sanders, I-Vt., and U.S. Rep. Alexandria Ocasio-Cortez, D-N.Y. At the state level, three Democratic House representatives — Summer Lee and Sara Innamorato, of Allegheny County, and Elizabeth Fiedler, of Philadelphia — won in 2018 with the backing of Democratic Socialist of America chapters.
And with such policy proposals as free college, universal childcare, and "Medicare for All" at the center of the debate this campaign season, Americans are certainly taking a closer look at social welfare programs that are common overseas.
Thus, some recent Pew Research Center polling data on Americans' views and perceptions of socialism and capitalism are instructive. And they're at the heart of this week's edition of The Numbers Racket.
For starters:
It will probably not surprise you to learn that Republicans have more favorable views of capitalism and some pretty pronounced disdain for socialism. Curiously, though, majorities of Democrats have positive impressions of both terms, though "only modest shares have strong impressions of each term," Pew pollsters found.
Overall, two-thirds of Americans (65 percent) have a positive impression of capitalism, compared to socialism (42 percent), Pew pollsters found.
Now here's a bit more about those partisan breakdowns:
Nearly eight in 10 Republicans and GOP-leaning independents (78 percent) had a somewhat, or very positive, reaction to the term capitalism, while more than half of Democrats (55 percent) responded the same way, according to Pew.
Meanwhile, 84 percent of Republicans have a negative perception of socialism, while 63 percent of those respondents have a reeeeeaaalllly negative view, Pew found. Two-thirds of Democrats (65 percent) have a favorable view. But only 14 percent have a very positive view, Pew found.
The demographic split
Younger Americans, those aged 30 and younger, express equally positive views of capitalism (52 percent) and socialism (50 percent), while older Americans are more favorably inclined to capitalism than socialism (pesky Cold War).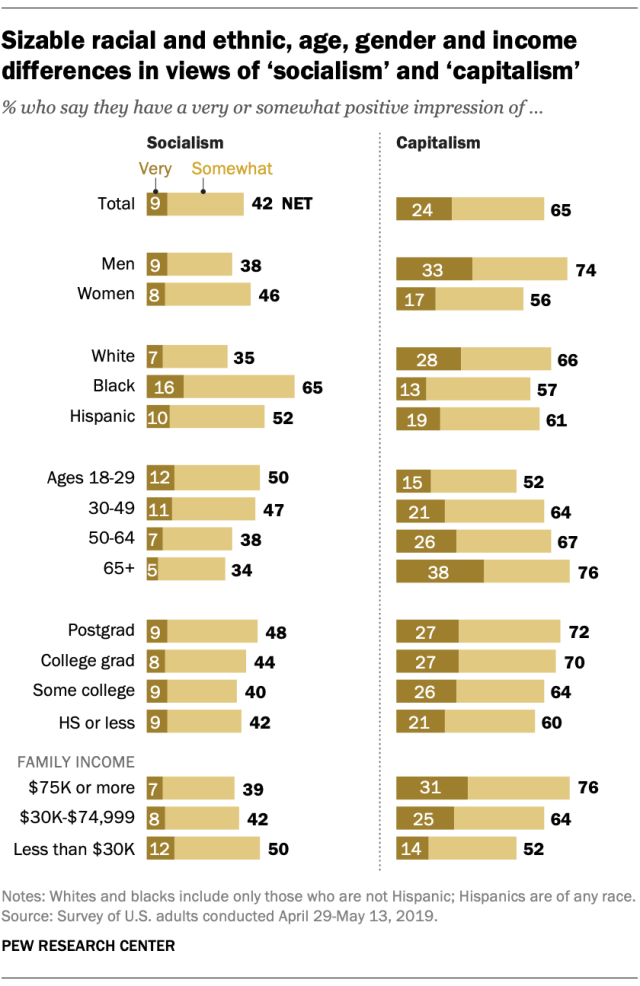 Women have more positive views of socialism than do men (46-38 percent). Nearly three-quarters of men (74 percent) have a more favorable view of capitalism than women (56 percent). And nearly twice as many men have a very positive impression of capitalism than do women (33-17 percent).
While the poll is silent on the "because" of those divisions, we're guessing it's a pretty solid bet that the wage gap and the undue burden of childcare has a lot to do with those gender splits.
It will also not shock you to learn that the more bucks up you are, the more favorably inclined you are toward capitalism.
Poll respondents with family incomes of "$75,000 or more have more positive views of capitalism than do those with lower incomes. The pattern is reversed for views of socialism: Those with incomes of less than $30,000 express more positive views of socialism than those with higher incomes," pollsters found.
Our stories may be republished online or in print under Creative Commons license CC BY-NC-ND 4.0. We ask that you edit only for style or to shorten, provide proper attribution and link to our web site. Please see our republishing guidelines for use of photos and graphics.