Commentary
State of the Union 2019: Investigating doesn't rule out legislating | Opinion
By Robert Speel
"If there is going to be peace and legislation, there cannot be war and investigation."
The implication of President  Donald Trump's quote during Tuesday night's State of the Union address is that Congress will be unable to pass laws while investigations continue of alleged malfeasance related to him, his administration and his 2016 campaign.
However, investigations of recent presidents in U.S. history indicate that is not the case.
In 1973, in the midst of the Watergate investigations of President Richard Nixon, Congress approved and then overrode a presidential veto of the War Powers Act, a law that attempted to redefine presidential military and foreign policy powers in the modern age. During the same period, Congress also passed the Endangered Species Act, signed by President Nixon. Scientists participated in the writing of this landmark environmental legislation, which protected animal and plant species and ecosystems from unregulated development.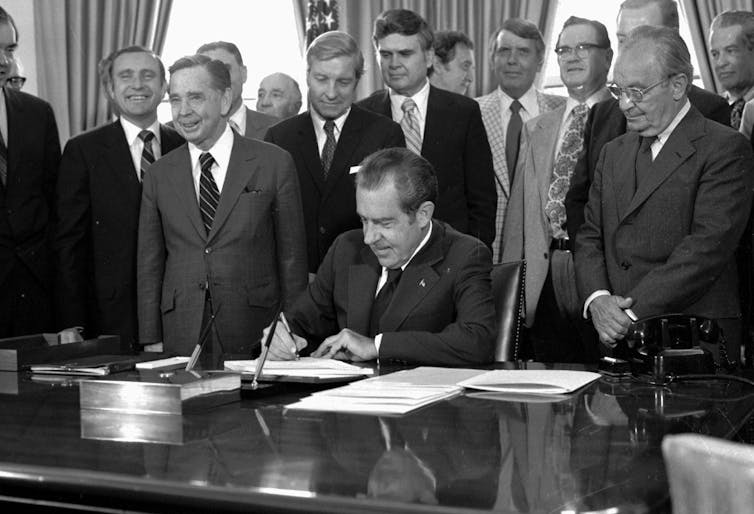 July 1974 was a crucial month for the federal government. The U.S. House of Representatives Judiciary Committee voted to impeach President Nixon and the U.S. Supreme Court unanimously ruled that the president had to turn over Oval Office tape recordings subpoenaed as part of the Watergate investigation.
Something else happened that momentous month: Major legislation was passed by Congress.
The Congressional Budget and Impoundment Control Act of 1974 changed the federal budget process to give Congress more control and prevent the president from refusing to spend funds approved by Congress.
And the Legal Services Corporation Act of 1974 was passed to provide legal aid for lower income Americans.
In 1998, Congress and Independent Counsel Ken Starr were investigating allegations of perjury and obstruction of justice by President Bill Clinton.
That year, Congress approved the Children's Online Privacy Protection Act to prevent online marketing to children and collection of information from children. The law today continues to have a significant impact in limiting social media use by children.
Congress also approved that year, and President Clinton signed, the Digital Millennium Copyright Act, which expanded U.S. copyright laws into the digital world and complied with new international treaties on the issue.
So, while congressional investigations of a president, and "war" between the two branches may not make the legislative process particularly smooth, it is still possible for significant and long-lasting laws to pass.
Robert Speel is an associate professor of political science at Penn State-Erie. He wrote this piece for The Conversation, where it first appeared.
Our stories may be republished online or in print under Creative Commons license CC BY-NC-ND 4.0. We ask that you edit only for style or to shorten, provide proper attribution and link to our web site. Please see our republishing guidelines for use of photos and graphics.