Commentary
State battles over abortion are leading to state constitutional amendments | Analysis
It's an option in all states and available directly to citizens in 18 states
(Photo by Dana DiFilippo for the New Jersey Monitor).
By John Dinan
The battles over abortion – who can get one, when they can get one – largely shifted from a focus on the U.S. Supreme Court back to state lawmakers and judges in June 2022. That's when the Supreme Court ruled that there was no federal constitutional guarantee of the right to get an abortion. States, they said, should be making the rules.
That decision, Dobbs v. Jackson Women's Health Organization, has meant a lot of activity in the past year in both state legislatures and courts. Two contradictory rulings early in April 2023 about whether women should have access to mifepristone, one of the two kinds of prescription abortion pills typically taken together for abortion, make it clear that federal courts still play a role in abortion policymaking. But states remain an important battleground.
Many people following the abortion battle focus on the part that state courts and state supreme court elections play. The intense focus on the outcome of the April 4, 2023, Wisconsin Supreme Court election, which shifted ideological control of that court, is an example.
I am a political scientist whose research focuses on state constitutions. I follow state constitutional amendments, which are adopted on a regular basis and revise the language of state constitutions. Sometimes they add new provisions. At other times they modify existing provisions. These amendments shape abortion policy as much as state court rulings – and stand to play a big role in abortion rights in the future.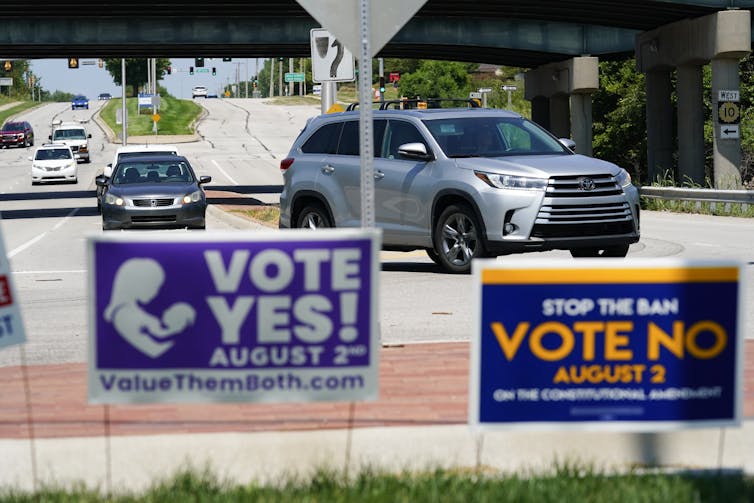 Using amendments to gain or deny rights
My research shows that in recent decades state constitutions have been amended to shift the level of protection for voting rights, crime victims' rights and electronic data and communication privacy rights, among others .
Meanwhile, constitutional amendments have also protected – and in some cases, denied – abortion rights.
Before the Dobbs ruling, abortion-related amendments invariably sought to limit protection for abortion rights by clarifying that there is no state constitutional right to abortion. In fact, between 2014 and 2020, voters in Alabama, Louisiana, Tennessee and West Virginia approved amendments stating there is no state constitutional right to abortion.
These amendments were designed in some cases to overturn state supreme court rulings that previously recognized abortion rights. In other cases, they were adopted to prevent state supreme courts from ruling in the future in favor of abortion rights.
But voters don't always approve these amendments. In August 2022, voters in Kansas rejected a proposed state constitutional amendment to deny a right to abortion. And in November 2022, voters in Kentucky did the same.
Drafting amendments to protect abortion rights
After the Dobbs decision, most proposed abortion-related amendments have aimed to expand protection of abortion rights.
In November 2022, voters in Vermont, California and Michigan approved amendments that explicitly protect reproductive rights. For instance, the California amendment declares, "The state shall not deny or interfere with an individual's reproductive freedom in their most intimate decisions, which includes their fundamental right to choose to have an abortion."
Eleven state constitutions already include protection for a right to "privacy." Many others guarantee "liberty," "due process" or "equality."
State courts occasionally rely on these provisions to issue decisions safeguarding abortion access. But the amendments adopted in Vermont, California and Michigan marked the first time language was used in state constitutions to provide explicit protection for reproductive freedom. Similar abortion-rights amendments are set to appear on the ballot in other states.
In early April 2023, legislators in Maryland voted to place an abortion-rights amendment on the November 2024 ballot.
Meanwhile, in some states that allow citizens to put amendments directly on the ballot, bypassing the need for legislative approval, abortion-rights groups are organizing in support of putting abortion-rights amendments on the ballot. These groups in Ohio, for example, are collecting signatures to place an abortion-rights amendment before voters in 2023. And groups in Missouri are trying to put an abortion-rights amendment on the 2024 ballot.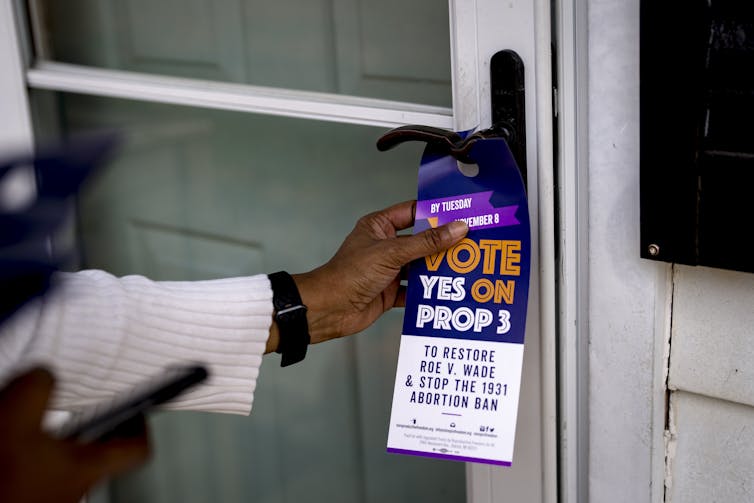 Bypassing the state legislature
In all 50 states, legislators have the authority to draft constitutional amendments. In some states, amendments need the support of only a majority of legislators to be placed on the ballot for voter approval. Other states set a higher bar and require amendments to earn the support of a legislative supermajority or get legislative approval in two separate sessions.
But what many people don't know is that 18 states allow for citizen-initiated constitutional amendments. This includes Mississippi, where the process was recently suspended but is expected to be revived. These are particularly powerful tools voters can use to get the outcomes they want, especially if measures to accomplish those goals have been defeated in state legislatures or rejected by courts.
In most of these states, when groups collect enough signatures in support of a proposed amendment, that amendment automatically qualifies for the ballot. Last year in Michigan, for instance, legislators showed no signs of advancing a reproductive-rights amendment. But abortion-rights groups collected more than 500,000 signatures, much more than necessary, and were able to put a reproductive-rights amendment on the November 2022 ballot.
Once on the ballot, citizen-led amendments generally need approval from a simple majority of voters before they can be approved, similar to what is needed to approve legislature-drafted amendments.
But Florida, Colorado and Illinois set a higher threshold, and Nevada requires voters to approve citizen-led amendments in two consecutive elections.
Citizens can take the lead
In states that allow citizen-initiated amendments, citizens and groups can bypass legislators who might not support their issues. What's more, these amendments take precedence over previous state supreme court rulings to the contrary. So, even when state supreme court justices won't recognize a right, voters can use the amendment process to get it.
Citizen-led amendments don't begin and end with reproductive rights. In recent years, citizens have initiated and approved amendments to establish redistricting commissions, boost the minimum wage, expand Medicaid and legalize marijuana.
And abortion-rights groups that had success with the citizen-initiated amendment process in Michigan in November 2022 are eyeing additional opportunities in Ohio, Missouri and other states.
At the same time, opponents of abortion rights are considering making changes to amendment rules to make it more difficult for amendments to get approved.
Both developments are proof that supporters as well as opponents of abortion rights see citizen-drafted amendments as an increasingly important abortion battleground of the future.

John Dinan  is a professor of politics and international affairs at Wake Forest University. He wrote this piece for The Conversation, where it first appeared.


Our stories may be republished online or in print under Creative Commons license CC BY-NC-ND 4.0. We ask that you edit only for style or to shorten, provide proper attribution and link to our web site. Please see our republishing guidelines for use of photos and graphics.