Commentary
How the ancient Greeks can help us understand Jan. 6 and its aftermath | Analysis
The historian Thucydides, who lived nearly 2,500 years ago, can provide us with some answers and insights
WASHINGTON, DC – JANUARY 06: A pro-Trump mob breaks into the U.S. Capitol on January 06, 2021 in Washington, DC. Congress held a joint session today to ratify President-elect Joe Biden's 306-232 Electoral College win over President Donald Trump. A group of Republican senators said they would reject the Electoral College votes of several states unless Congress appointed a commission to audit the election results. (Photo by Win McNamee/Getty Images)
By Rachel Hadas
The second anniversary of the Jan. 6, 2021, insurrection is upon us. And each new revelation about that brutal mob assault on our government raises a host of fresh questions about what transpired in the days prior to January 6, notably who was involved in planning the events of that day.
Why, for instance, did former President Donald Trump reportedly consider a blanket pardon for all the insurrectionists?
An answer to that question and others will surely raise more questions and ultimately reveal the scope of what we still do not, and may never, know. But maybe now, two years on, we finally have the perspective to see that the lie Trump told about the 2020 election – that he won and President Joe Biden lost – is still shredding the fabric of our democracy.
But how do we make sense of it all?
As a professor of English and a student of the classics, I suggest that the insights and objectivity of a historian who lived nearly 2,500 years ago can bolster our understanding of the country's current plight.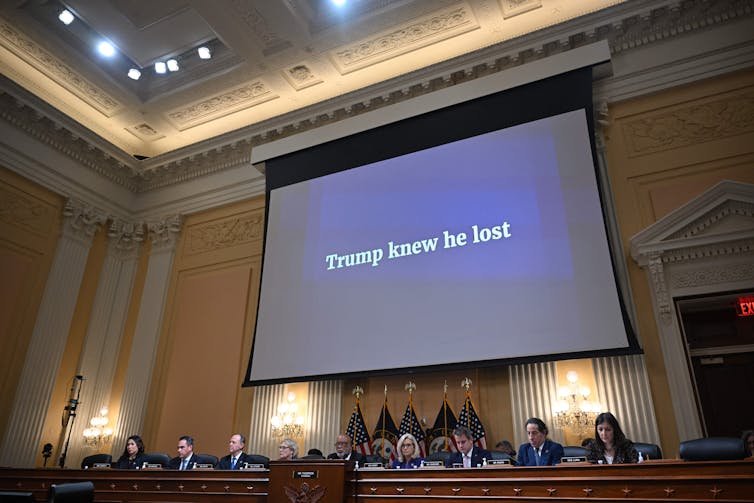 Early in his great work, "History of the Peloponnesian War," about the decades-long war (431–404 BC) between Athens and Sparta, Athenian historian Thucydides (460-400 BC) expresses the hope that his "History" would be "judged useful by those who want to understand clearly the events which happened in the past and which (human nature being what it is) will, at some time or other and in much the same ways, be repeated in the future."
Divisions fracture democracies
During the early days of the COVID-19 pandemic, Thucydides was cited frequently, and for good reason.
In "History," he devotes a brief passage to the Great Plague that struck Athens in 432. After describing the symptoms, he seems to stand back and comment on the dire damage done by The Plague, not only to people's bodies but to their behavior – and by extension to the city-state that had prided itself on its democracy. Civic responsibility gave way to a desperate emphasis on individual survival or immediate gratification, and the spirit of cooperation crucial for a working democracy withered. Journalists, historians and professors of classics alike wrote not only about the similarities between the long-ago Great Plague and COVID-19, but also about the timeless force of Thucydides' insight.
When it comes to an equally celebrated passage on civil war, later in the same work, Thucydides uses the same technique. First he provides a granular description of chaotic factionalism. Then, he stands back and offers a coolly objective assessment of the larger disorders attendant on civil strife. He writes about the civil conflict in Corcyra (modern Corfu) over the broader war between Athens and Sparta over territory and power. The Jan. 6 committee argues that Trump's election lie sparked civil unrest in the United States and ignited the insurrection.
The causes of civil strife differ, but some of Thucydides' conclusions about democracy and civil unrest applied to American society two years ago – and still apply now.
It will happen again
Among Thucydides' trenchant insights, I believe two stand out in our moment.
First is how people shift values and norms to suit their political agendas. In Thucydides' words, "To fit in with the change of events, words … had to change their usual meanings. What used to be described as a thoughtless act of aggression was now regarded as the courage one would expect to find in a party member; to think of the future and wait was merely another way of saying one was a coward; any idea of moderation was just an attempt to disguise one's unmanly character; ability to understand a question from all sides meant that one was totally unfit for action."
And second, the historian notes the extreme polarization, both the cause and result of factionalism, which is so striking 2,000 years ago – and today.
He writes: "Society had become divided into two ideologically hostile camps, and each side viewed the other with suspicion. As for ending this state of affairs, no guarantee could be given that would be trusted … everyone had come to the conclusion that it was hopeless to expect a permanent settlement and so, instead of being able to feel confident in others, they devoted their energies to providing against being injured themselves."
Thucydides' luminous insights, however bleak, help us to rise above the incessant reactions and predictions of the 24-hour news cycle that feels as if it will never end. And, even if and when it does end, Thucydides warns us, "at some time or other and in much the same ways," it will happen again.

Rachel Hadas is an English professor at Rutgers University/Newark. She wrote this piece for The Conversation, where it first appeared.


Our stories may be republished online or in print under Creative Commons license CC BY-NC-ND 4.0. We ask that you edit only for style or to shorten, provide proper attribution and link to our web site. Please see our republishing guidelines for use of photos and graphics.