Commentary
How have states been deciding abortion rights since Roe v. Wade was overturned? | Analysis
Four essential reads on what voters at the state level have been doing about abortion access
Abortion-rights demonstrators protest in front of the Supreme Court building on June 25, 2022, a day after the announcement of the Dobbs v. Jackson Women's Health Organization ruling (Photo by Brandon Bell/Getty Images News via Getty Images/The Conversation).
By Lorna Grisby
When the Supreme Court ruled on June 24, 2022, in Dobbs v. Jackson Women's Health Organization that states – some of which have been chipping away at women's access to abortion for years – should decide the legality of abortion, Justice Samuel Alito wrote in the court's majority opinion that "women are not without electoral or political power."
In one fell swoop, the court's 6-3 ruling that abortion is not a federal constitutional right overturned Roe v. Wade, decided in 1973, and 1992's Planned Parenthood v. Casey – two decisions that provided federal protections for abortion.
Since the Dobbs decision, women and men alike have exercised the political power Alito referenced at the ballot box and, in the states that allow it, through legislation citizens initiate themselves. State legislatures, too, have been passing abortion laws.
The Conversation has covered the fight over abortion rights in the U.S. for years.
Here are four essential reads to help you understand some of the state-level decisions legislators and citizens have made since the Dobbs ruling.
1. Kansans safeguard constitutional access to abortion
On Aug. 2, 2022, in the first state referendum on abortion since the Dobbs ruling, voters in Kansas rejected a proposed constitutional amendment to deny the right to abortion in that state. The 59% to 41% vote was decisive.
Scholars Matthew A. Baum, Alauna Safarpour and Kristin Lunz Trujillo, of the John F. Kennedy School of Government at Harvard University, who poll Americans on social and political issues, wrote that most residents of Kansas favor neither unrestricted access to abortion nor a total ban on the procedure.
Sentiment appears to be the same in various states across the country.
In one survey that they conducted between June 8 and July 6, 2022, these scholars asked Americans about the importance of abortion to them and if they support the procedure under nine specific scenarios, ranging from saving the life of the woman to avoiding financial hardship.
Their findings were eye-opening.
"Since the Dobbs decision was announced, Americans also increasingly appear to prefer fewer restrictions on abortion, even as many states are moving to enact more restrictions," they wrote.
"Across the U.S., more Americans support than oppose the right to an abortion in most scenarios – including cases in which the life or health of the mother is at stake, the fetus could be born with severe health problems, the pregnancy resulted from rape or the woman does not want to be pregnant. Support for abortion in all nine scenarios increased following the Dobbs ruling."
2. Kansas was no fluke
Whether they were voting in favor of a state constitutional amendment that protected abortion rights or voting against one that would have banned abortion, voters in a record number of states – from California to Vermont – made clear on Election Day, Nov. 8, 2022, that they want abortion to be an option for women.
In Kentucky as in Kansas, for example, voters rejected a proposed constitutional amendment that would have stripped residents of the right to seek an abortion. And in California, Michigan and Vermont, voters approved constitutional amendments to protect the right to an abortion.
Linda C. McClain, a law professor, and Nicole Huberfeld, a professor of law and health law, of Boston University, have studied the issue. They wrote: "Exit polls indicate 60% of voters nationwide – up 9% since 2020 – believe that abortion should be legal in all or most cases. A majority – 60% – of voters expressed anger at the Supreme Court over the Dobbs ruling and indicated that they trusted the Democratic Party more than the Republican Party on the issue by a margin of 52% to 42%."
The pair pointed out that abortion was also indirectly on the ballot in federal races and in states like Pennsylvania and New York, where it was a campaign issue.
In Pennsylvania, abortion figured prominently in the gubernatorial race between Democrat Josh Shapiro and Republican Doug Mastriano.
"Access to abortion care and protecting abortion rights were key themes in Shapiro's campaign, while Mastriano stressed culture war issues," they wrote. "Commentary and exit polling suggest that abortion was a motivating issue among Pennsylvania voters – especially younger voters."
Shapiro won the contest.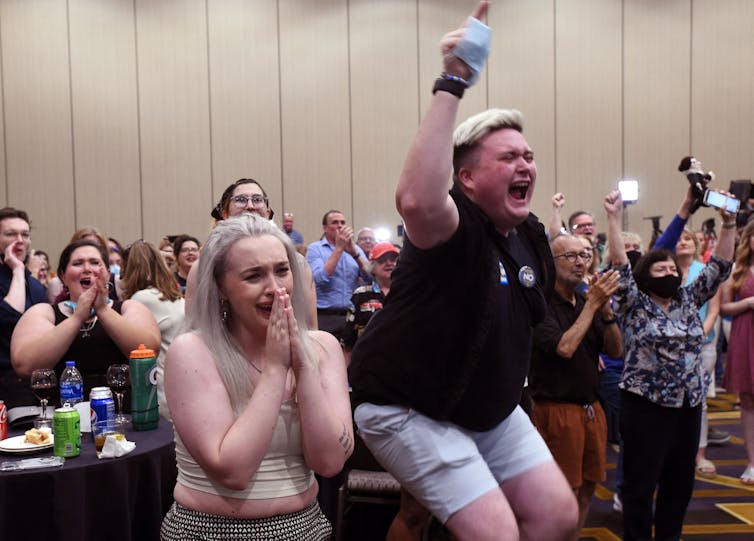 3. Some abortion fights are through constitutional amendments
John Dinan, a scholar of state constitutions at Wake Forest University, wrote that even before the Dobbs ruling, state constitutional amendments had shaped abortion policy as much as state court rulings had.
But, he noted, how these amendments are used – and who proposes them – is different now.
"Before the Dobbs ruling, abortion-related amendments invariably sought to limit protection for abortion rights by clarifying that there is no state constitutional right to abortion," he wrote, noting that, as in the cases of Kansas and Kentucky, voters don't always approve these amendments.
"After the Dobbs decision, most proposed abortion-related amendments have aimed to expand protection of abortion rights. In November 2022, voters in Vermont, California and Michigan approved amendments that explicitly protect reproductive rights."
4. A patchwork legal landscape
Since the Dobbs decision, women's access to abortion has increasingly been determined by geographic boundaries.
As Temple University's Rachel Rebouche, a scholar of reproductive health and justice, wrote for us, women who live along the East and West coasts can get abortions, but women in parts of the South and Midwest can't.
And since the Dobbs decision, which prompted state-level referendums, some of those boundaries have hardened. But voters in some states with tight abortion restrictions opted to loosen them.
For example, in California, Michigan and Vermont, voters added abortion protections to their state constitutions. And in Kentucky, where abortion was severely restricted, voters rejected a referendum that would have denied constitutional protections for abortion.
"The legislation that states pass post-Dobbs of course reflects differences in opinion about abortion itself. But in some places where abortion has been banned, or restricted, anti-abortion legislators may not reflect their constituents' beliefs. The recent ballot measures reveal that," Rebouche wrote.
Editor's note: This story is a roundup of articles from The Conversation's archives.

Lorna Grisby is the Senior Politics & Society Editor at the Conversation, where this analysis first appeared.


Our stories may be republished online or in print under Creative Commons license CC BY-NC-ND 4.0. We ask that you edit only for style or to shorten, provide proper attribution and link to our web site. Please see our republishing guidelines for use of photos and graphics.