Commentary
Allison Davis: The forgotten Black scholar who studied – and faced – structural racism in 1940s America | Opinion
By David A. Varel
When black historian Carter G. Woodson founded Negro History Week in 1926 (expanded to Black History Month in 1976), the prevailing sentiment was that black people had no history. They were little more than the hewers of wood and the drawers of water who, in their insistence upon even basic political rights, comprised an alarming "Negro problem."
To combat such ignorance and prejudice, Woodson worked relentlessly to compile the rich history of black people. He especially liked to emphasize the role of exceptional African-Americans who made major contributions to American life. At the time, that was a radical idea.
W. Allison Davis (1902-1983) came of age in the generation after Woodson, but he was precisely the type of exceptional black person whom Woodson liked to uphold as evidence of black intelligence, civility and achievement.
Davis was an accomplished anthropologist and a trailblazer who was the first African-American to earn tenure at a predominantly white university – the University of Chicago in 1947. But Davis has faded from popular memory. In my book "The Lost Black Scholar: Resurrecting Allison Davis in American Social Thought," I make the case that he belongs within the pantheon of illustrious African-American – and simply, American – pioneers.
Allison Davis, forgotten pioneer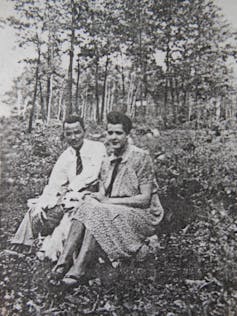 Allison Davis and his wife Elizabeth Stubbs Davis were among the first black anthropologists in the country. Bringing their experiences on the wrong side of the color line to mainstream social science, they made landmark contributions to their field, including "Deep South" (1941) and "Children of Bondage" (1940). Those books sold tens of thousands of copies in the middle decades of the 20th century; they advanced social theory by explaining how race and class functioned as interlocking systems of oppression; and they broke methodological ground in combining ethnography with psychological assessments rarely applied in those days.
Allison Davis' extensive body of research also had a real impact on social policy. It influenced the proceedings in Brown v. Board of Education (1954), undergirded the success of the federal Head Start program and prompted school districts all across the country to revise or reject intelligence tests, which Davis had proven to be culturally biased. His "Social-Class Influences Upon Learning" (1948) made the most compelling case of that era that intelligence tests discriminated against lower-class people.
Despite the very real advances that Davis helped to inspire within American education in the 20th century, today those same accomplishments are at risk. American schools remain as racially segregated as ever due to poverty and discriminatory public policies. The investment in public education, especially compensatory programs such as Head Start, looks to further diminish amid the growing support for privatization, charter schools, and school vouchers – or, the Betsy "DeVos playbook," as critics describe it. To understand the nature of these issues today, one must understand their history, which Davis' career helps to illuminate.
Davis' scholarly contributions are unquestionable when considered now, many decades later. But as the problems above suggest, it is no longer enough to simply celebrate exceptional African-American pioneers like Davis, or just give lip service to their ideas. The next step is confronting the circumstances that constrained their lives. This means viewing their experiences in relation to the structural racism that has shaped American life since colonial times.
Bending – not breaking – academic color line
Consider Davis' landmark appointment to the University of Chicago. Fitting the story into a master narrative of racial progress obscures more than it reveals. While the appointment did represent the crossing of a racial boundary and heralded the many more barriers that would be challenged in the ensuing decades, a closer look at the story gives little reason to celebrate.
Like all black scholars of his time, Davis had to be twice as good to get half as much as his fellow white male scholars (and the situation was far worse for black women scholars like Elizabeth Stubbs Davis). Only through compiling a truly remarkable record of achievement, and only amid the national fervor to make the U.S. the "arsenal of democracy" during World War II, would Chicago even consider appointing Allison Davis. Even then, he only received a three-year contract on the condition that the Julius Rosenwald Foundation (JRF) agree to subsidize most of his salary.
Even with the subsidy, certain university faculty members, such as Georgia-born sociologist William Fielding Ogburn, actively opposed the appointment on racist grounds. So, too, did some trustees at the JRF, including the wealthy New Orleans philanthropist Edgar B. Stern, who attempted to sabotage the grant. Discounting Davis' accomplishments and implying instead a sort of reverse racism, Stern asserted that "the purpose of this move is to have Davis join the Chicago Faculty, not in spite of the fact that he is a Negro but because he is a Negro." Similarly myopic charges have been a staple of criticism against affirmative actions programs in more recent times.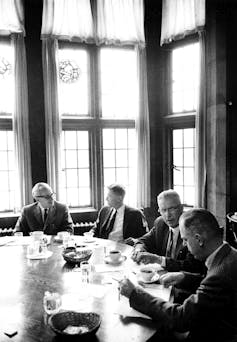 The opposition ultimately failed to torpedo Davis' appointment, but it did underscore the type of environment he would face at Chicago. As faculty members openly debated if he should even be allowed to instruct the university's mainly white students, the administration barred him from the Quadrangle Club, where faculty regularly gathered and ate lunch. In a private letter to him, the university made clear that it "cannot assume responsibility for Mr. Davis' personal happiness and his social treatment."
As time wore on, such overt racism did begin to ebb, or at least confine itself to more private quarters. What never did subside, though, was an equally pernicious institutional racism that marginalized Davis' accomplishments and rendered him professionally invisible.
As Davis collaborated with renowned white scholars at Chicago, his contributions were submerged under theirs – even when he was the first author and chief theorist of the work. When Daniel Patrick Moynihan, writing for Commentary magazine in 1968, failed to count Davis among his list of black scholars who studied black poverty (even though Davis was among the most prolific black scholars in that area), he registered the depth of Davis' marginalization. Such marginalization, which stemmed also from Davis' interdisciplinary approach and iconoclasm, has caused even historians to lose track of him and his important career.
Davis was ensnared by the racism he studied
Even the most exceptional African-Americans have never been able to transcend the racial system that ensnares them. Davis' appointment did not usher in a new era of integration of faculties at predominantly white universities. It took another three decades for substantial numbers of black scholars to begin receiving offers of full-time, tenure-track employment. And because of the vastly disproportionate rates of poverty, incarceration and municipal neglect plaguing the black community, jobs in higher education often continued – and still continue – to be out of reach.
Few people better understood, or more thoughtfully analyzed, these very realities than did Allison Davis. This was a man who laid bare the systems of race and class that govern American life. He understood that education needed to be a bulwark for democracy, not merely a ladder for individual social mobility. He embodied how to confront injustice with sustained, productive resistance. Moreover, this was a man who refused to surrender to despair, and who chose to dedicate his life to making the country a better, more equal, more democratic place.

David A. Varel is a Visiting Assistant Professor of History at the University of Mississippi. He wrote this piece for The Conversation, where it first appeared.

Our stories may be republished online or in print under Creative Commons license CC BY-NC-ND 4.0. We ask that you edit only for style or to shorten, provide proper attribution and link to our web site. Please see our republishing guidelines for use of photos and graphics.